Home
›
Sarah Geronimo
›
Sarah Geronimo Supporters Forum - Popsters
POPSTERS of Sarah Geronimo
ate G
Popster
Bagong bahay ginawa ko para sa lahat ng Popsters. Walang exclusivity dito...lahat welcome...basta di lang pasaway...hehehehhehe...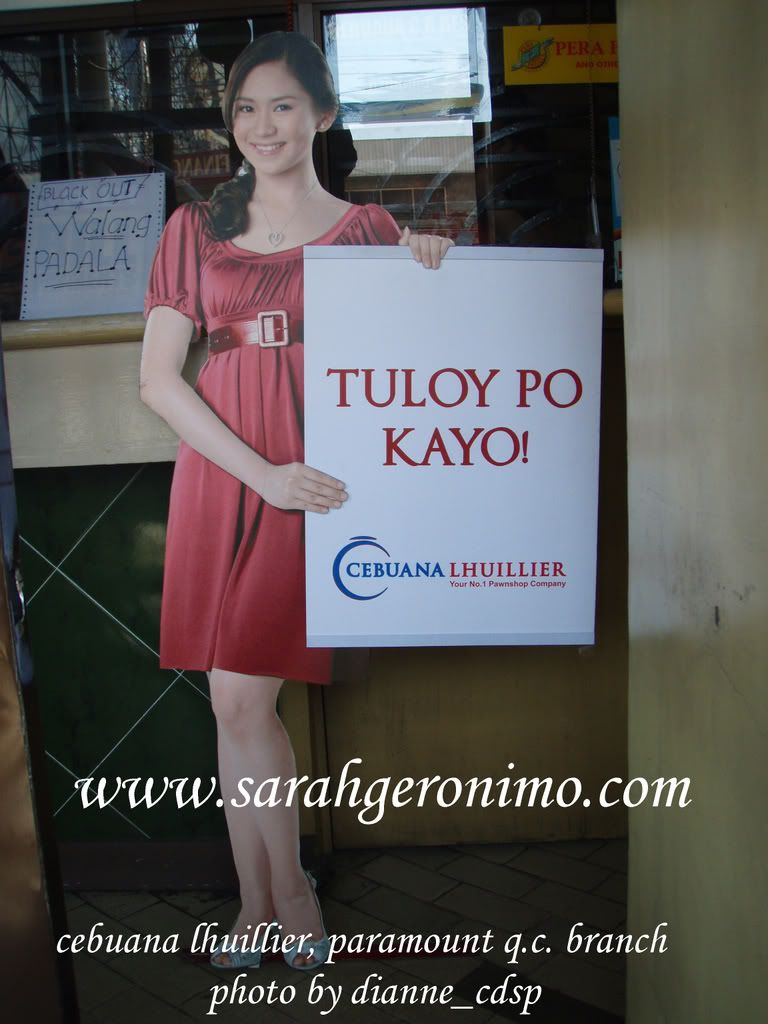 a fan's place
There are so many artists in the industry. Each one has a fan base of their own. Some have more than one group supporting them. They are the ones who keep the artists' careers going. They keep the morale of the artists and the industry in high gear. No doubt without the fans, the industry will not thrive.
Yet there are times when a fan should know his or her limitations. Their role is to support, not possess. There are artists who are very accommodating when it comes to the people who support them. They not only give time but even go a step farther by treating them like friends already. And that is something that can be exhilarating to any fan. Yet there are times when fans forget that the relationship with them is borne out of career support. That they still do not have the right to encroach on the artists' private lives. That they can only ask about it, not demand to be told. Of course there are fans that turn into real friends. Confidants at times. If this honor is bestowed on you, though, cherish and take care of the trust. They chose you because they feel that you will take care of them and their private lives. Do not abuse the trust by flaunting the closeness to other people just to get some limelight for yourself. Remember, this is about them, not you. Give back the trust to them by protecting their right to privacy.
Fans should also learn how to respect the fans of other artists since everything you do as a fan reflects on the artist you are supporting. It does not do well for you or the artist if you malign others, particularly those who are being pitted directly against your favorite. It doesn't earn you nor the artist any plus points. Those who know how to respect others will surely get the respect back. This isn't a cockpit. The industry is about talent, fan support and the co-existence of everyone in it. A loyal fan is someone who supports no matter what but does not put others down in the name of his or her idol.
And for artists with not just one group supporting them, I can only say that isn't it just great to have a lot of groups supporting them? Success in the business also relies in numbers aside from talent. Aside from good karma, strength in numbers attracts more to your side. As they say, the more the merrier. And it really does a lot to boost the morale of the artists.
As I always say, showbiz is big enough for everyone who deserves to be in it. So if you truly believe that your favorite/s deserve to be in it, then support them in a way that will make their name thrive and flourish. Support them by being true and honest. Praise if good, admit it if they make mistakes at times. Do not turn it into fanaticism or blind support because it doesn't help the artist at all. Most of all, respect everyone in the business and maintain humility. Remember that the faces you see on your way up may just be the same faces you see on your way down. If you are supporting a very popular artist, be thankful and magnanimous. Steer clear of comparison or intrigues because popularity doesn't always equate to talent and fairness. So many things are happening in the background, invisible to your naked eye. The people moving behind the cameras have their own interests and motives. You just might find your artist in the middle of vested interests if you remove your rose-colored glasses. Showbiz is a game of perception so don't always be deceived by what you see.
A fan's place is behind the artist he or she supports. That is where you started and that is where you should stay. Bask in their success and give encouragement when they are down. It is not your place to destroy the competition in his or her name. Success achieved by stepping on others is empty success to say the least. And karma usually steps in when you least expect it. So keep your idol's name clean by playing clean as a fan. You just don't realize the power of a loyal fan. There is so much to gain from respect, honesty and most of all humility.
Written by Nins