Home
›
News and Events
›
Events Calendar & Discussions
›
Special Appearances & Awards
Surprise Victory Celebration in Reno
adeno
Guardian
of Sarah's multiple awards 2009
The one little event in Reno which drove me to insanity with all the preparations. Ate jaydee was also here and shared the fun stress.
A big thank you to cassandra for replying to me so fast regarding the banner which needed to be done in less than 24 hours' time from when I msg'ed all our graphic artists. After going over designs with Sir Jay, we needed tons of text to enumerate every major award for 2009 and with the format, just decided to use the darker picture. Unfortunately the room was also pretty dark. All the preps for this private party was absolutely last minute... I was ready to pull my hair out sometimes.. lol
The event itself was held after the only promo of the day on March 31, 2009 in one of the VIVA producers' hotel rooms - Grand Sierra Resort & Casino, Reno, Nevada.
alt=':)' />
ate jaydee has more pics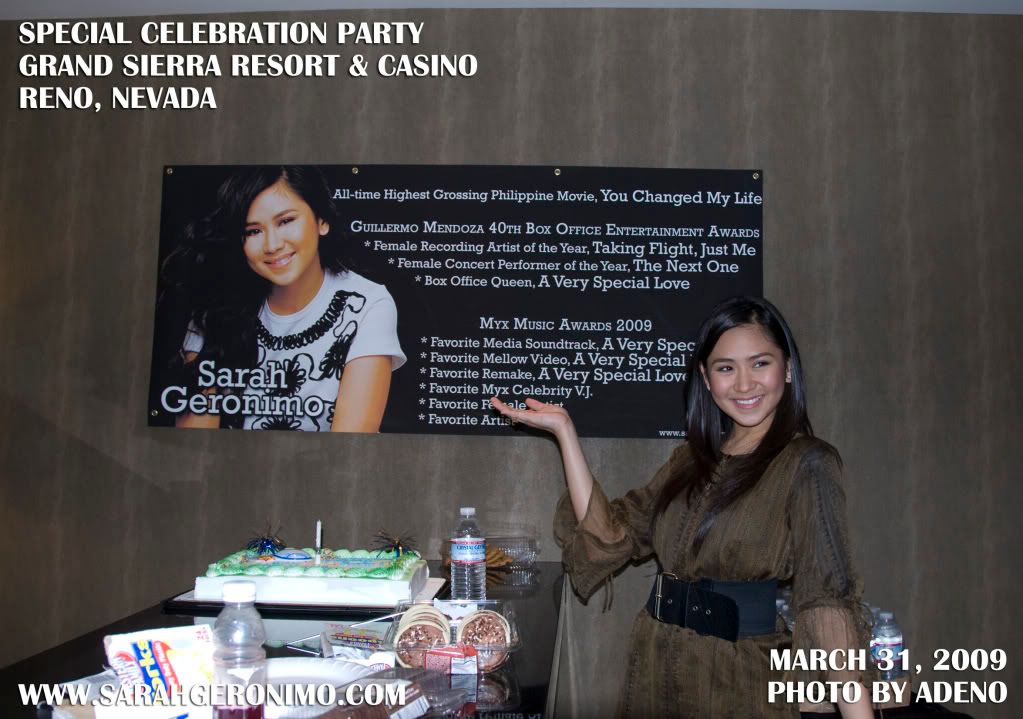 <object width="445" height="364"><param name="movie" value="
http://www.youtube.com/v/HPoDVhyrsqk&hl=en&fs=1&rel=0&border=1"></param><param
name="allowFullScreen" value="true"></param><param name="allowscriptaccess" value="always"></param><embed src="
http://www.youtube.com/v/HPoDVhyrsqk&hl=en&fs=1&rel=0&border=1&quot
; type="application/x-shockwave-flash" allowscriptaccess="always" allowfullscreen="true" width="445" height="364"></embed></object>