Home
›
News and Events
›
Special Features
The Other Side Concert Review
Maricris
Popster
Pinoy Music MagazineThe Other Side Concert Review
by Andrew Santos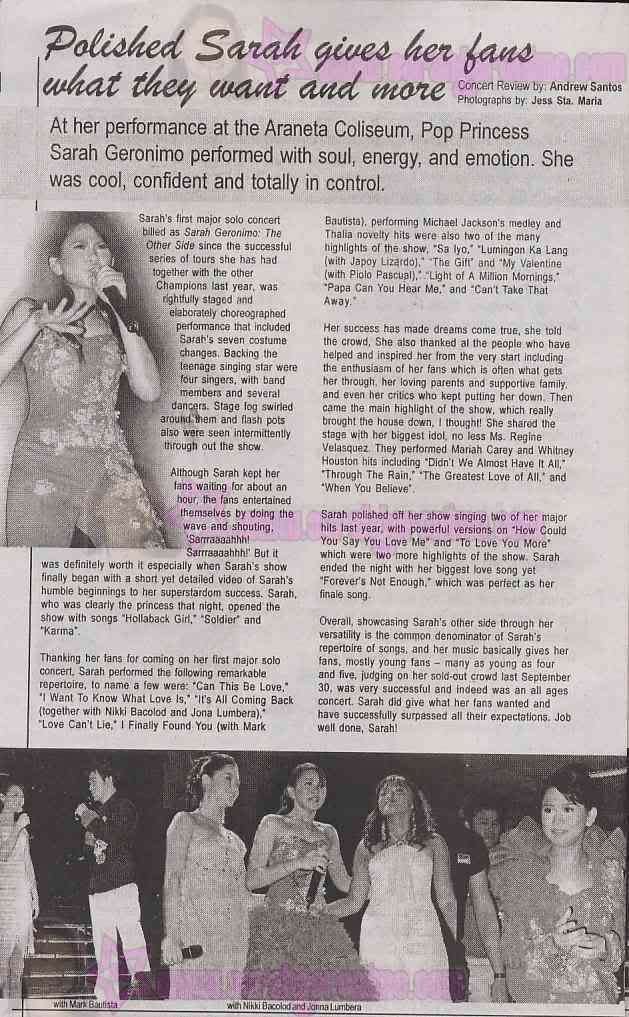 Polished Sarah gives her fans what they want and more
At her performance at the Araneta Coliseum, Pop Princess Sarah Geronimo performed with soul, energy, and emotion. She was cool, confident and totally in control.
Sarah's first solo major concert billed as Sarah Geronimo: The Other Side since the successful series of tours she has had together with the Champions last year, was rightfully staged and elaborately choreographed performance that included Sarah's seven costume changes. Backing the teenage singer were four singers, with band members and several dancers. Stage fogs swirled around them and flash pots also were seen intermitenly through out the show.
Although Sarah kept her fans waiting for about an hour, the fans entertained themselves by doing the wave and shouting, 'Saaarrrraaahhhhhh! Saarrrrrraaah!' But it was definitely worth it specially when Sarah's show finally began with a short yet detailed video of Sarah's humble beginnings to her superstardom success.
Sarah , who was clearly the princess that night, opened the show with songs "Hollaback Girl," "Soldier" and Karma.
Thanking her fans for coming on her first major solo concert, Sarah performed the following remarkable repertoire, to name a few were: "Can this be love," "I wanna know what love Is," "It's all coming back ( together with Nikki Bacolod and Jona Lumbera ) Love can't lie and I finally found you ( with Mark Bautista ), performing Michael Jackson's medley and Thalia novelty hits were also two of the many highlights of the show, "Sa Iyo," "Lumingon ka lang ( with Japoy Lizardo ), "The Gift," and "My Valentine ( with Piolo Pascual)" "Light of Million mornings," "Papa can you hear me," and "Can't take that away"
Her success has made dreams come true, she told the crowd, She also thanked all the people who have helped and inspired her from the very start including the enthusiasm of her fans which is often what gets her through, her loving parents and supportive family, and even her critics who kept putting her down. Then came the main highlight of the show, which really brough the house down, I thought! She shared the stage with her biggest idol, no less Ms. Regine Velasquez. They performed Mariah Carey and Whitney Houston hits including "Didnt we almost have it all," "Through the rain," "The greatest love of all," and "When you believe."
Sarah polished off her show singing two of her major hits last year, with powerful versions on "How could you say you love me," and "To love you more" which were two more highlights of the show. Sarah ended the night with her biggest love song yet "Forever's not enough," which was perfect as her finale song.
Overall, showcasing Sarah's other side through her versatility is the common denominator of Sarah's repertoire of songs, and her music basically gives her fans, mostly young fans-- many as young as four and five, judging on her sold out crowd last September 30, was very successful and indeed was an all ages concert. Sarah did givewhat her fans wanted and successfully surpassed all their expectation. Job well done, Sarah!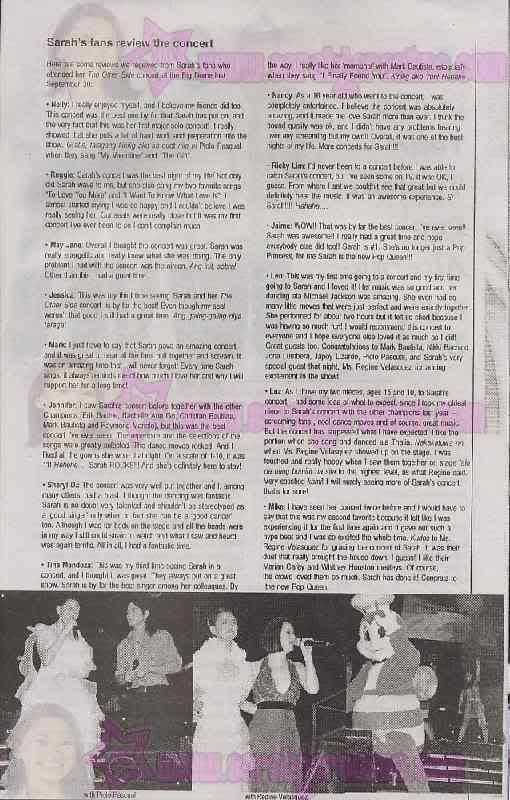 Sarah's fans review after the concert:
Here are some reviews we received from Sarah's fans who attended her The Other Side concert at the Big Dome last September 30:
*Nelly: I really enjoyed myself, and I believe my friends did too. This concert was the best one by far that Sarah has put on, and the very fact that this was her first major solo concert ! It really showed that she puts a lot of hard work and preparation into the show. Grabe, talagang kinilig ako sa duet nila ni Piolo Pascual when they sang "My Valentine" and "The Gift".
*Reggie: Sarah's concert was the best night of my life! Not only did Sarah wave to me, but she also sang two of my favorite songs "To love you more" and "I wanna know what love is". I almost started crying I was so happy and couldn't believe I was really seeing her! Our seats were really close but it was my first concert I've ever been to so I can't complain much.
*May Jane: Overall I though the concert was great. Sarah was really energetic and really know what she was doing. The only problem I had with the concert was the aircon. Ang init sobra! Other than this, I had a great time.
*Jessica: This was my third time seeing Sarah and her The Other Side concert is by far the best! Eventhough my seat weren't that good, I still had a great time. Ang galing-galing nya talaga!
*Mark: I just have to say that Sarah gave an amazing concert and it was great to hear all the fans pull together and scream. It was an amazing time that I will never forget. Everytime Sarah sings, it always reminds me of how much I love her and why I will support her for a long time!
*Jennifer: I saw Sarah's concert before together with other champions (Erik Santos, Rachella Ann go, Christian Bautista, Mark Bautista and Raymond Manalo ), but this was the best concert I've ever seen. The repertoire and selections of the songs were greatly selected. The dance moves rocked! And I like all the gown she wore that night. On a scale of 1-10, it was 11! Hehehe... Sarah ROCKS!!!! And she's definitely here to stay!
*Sheryl D.: The concert was very well put together and I, among many others, had a blast. I thought the dancing was fantastic. Sarah is no doubt very talented and shouldn't be stereotyped as a 'good singer' only when in fact she can be a 'good dancer' too. Although I was far back on the stage and all the heads were in my way I still could strain to watch and what I saw and heard was again terrific. All in all, I had a fantastic time.
*Tina Mendoza: This was my third time seeing Sarah in a concert, and I thought it was great.They always put on a great show. Sarah is by far the best singer among her colleagues. By the way, I really like her moments with Mark Bautista, especially when they sang I Finally found you, kinilig ako run!Hehehe...
*Nancy: As a 16 year old who went to the concert, I was completely entertained. I believe the concert was absolutely amazing, and it made me love Sarah more than ever. I think the sound quality was ok and I didn't have any problems hearing over any screaming but my own! Overall, it one of the best nights of my life. More concerts for Sarah!!!
*Ricky Lim:I'd never been to a concert before I was able to catch Sarah's concert, but I've seen some on TV. It was ok I guess. From where I sat we couldn't see that great but we could definitely hear the music. It was an awesome experience. Si Sarah!!!! Hahaha...
*Jaime: WOW! That was by far the best concert I've ever seen!! Sarah was awesome! I really had a great time and hope everybody else did too! Sarah is
#1
. She's no longer just a Pop Princess, for me, Sarah is the new Pop Queen!!!
*Len: This was my first time going to a concert and my first time going to Sarah and I loved it! Her music was so good and her dancing ala Michel Jackson was amazing. She even had so many moves that were just perfect and were exactly together. She performed for about two hours but it felt so short because I was having so much fun. I would recommend this concert to everyone and I hope evreyone else loved it as much as I did. Great guests too. Congartulations to Mark Bautista, Nikki Bacolod, Jona Lumbera, Japoy Lizardo, Piolo Pascual, and Sarah's very special guest that night, Ms Regine Velaquez for adding excitement in the show.
*Luz: As I drove my two nieces, ages 15 and 10 to Sarah's concert, I had some idea of what to expect, since I took my oldest niece to Sarah's concert with the other champions last year--- screaming fans, cool dance moves and of course great music. But the concert has surpassed what I have expected. I like the portion where she sang and dance ala Thalia. Nakakatuwa rin when Ms. regine Velasquez showed up on the stage lalo na nung bumirit na sila to the highest level, as what Regine said. Very satisfied kami! I will surely seeing more of Sarah's concert, that's for sure!
*Mike: I have seen her concert twice before and I would have to say that this was my second favorite because it felt like I was experiencing it for the first time again and it gave out such a hype beat and I was so excited the whole time. Kudos to Ms. Regine Velasquez for gracing the concert of Sarah. It was their duet that really brought the house down. I guess! I like their Mariah Carey and Whiteney Houston medleys. Of course the crowd loved them so much. Sarah has done it. Congrats to the new Pop Queen!